Flow & Current Meters

Swoffer 2100 Current Meter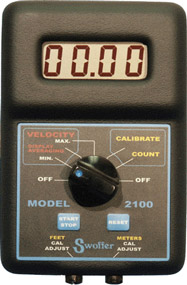 This easy to use, robust current meter consists of a handheld digital display connected to a fiber-optic sensor and is available with 3 rod configurations - a top set wading, combination, and Telescoping rod. Top set wading rods are designed to be used while wading in streams, waterways and channels. Combination rods are designed to measure flows in faster, deeper water or from low bridges or a boat. Telescoping rods which are supplied with the sensor on a short boom are designed for reaching shallow and partially obstructed channels such as sewers.
The basic principle of the Swoffer fiber-optic sensor is simple and unique: Multiple bundles of fiber-optics, assembled into a propeller driven rotor, gate a beam of infrared light from a photo diode to a photosensitive transistor producing electronic pulses. These pulses, generated by the propeller rotor over a precisely measured amount of time, are directly proportional to water velocity. Average water velocity in both m/sec and ft/sec can be viewed on the 2100 Handheld Display which is also used to calibrate the fiber-optic sensor.
The electronic half of the sensor is the latest opto-electronics and is epoxy encapsulated in a ½" (12.7mm) diameter acetal resin housing for protection from chemicals and the elements. The sensor uses a two-wire signal system requiring only 3 volts for operation and can generate an output signal through over 1000 feet of cable. The rotating portion of the sensor consists of a very low friction fiber-optics rotor rotating around a polished & hardened stainless steel shaft, all driven by a glass-reinforced nylon propeller. All rotor parts are easily replaceable in the field and spares are provided with every new instrument.

Features:

• Read stream velocity directly from 0.1 to 25 feet (.03 to 7.5 meters) per second
• Data displayed in either feet or meters per second
• Three selectable pre-set display update times 90 second maximum
• Powered by a single standard 9V battery
• Precision quartz crystal controlled electronics provides accurate, precise data in all flow conditions

Specifications
Swoffer 3000 Display
with C140 & C80 Metric Topset Wading Rods
Swoffer 3000 Display
with LX & STDX
Imperial Telescoping Rods
Swoffer 3000 Display
with Metric & Imperial Combination Rods