Dedicated Water Quality and Water Level Data Loggers
Accessories for Solinst Gold, Junior & LTC Data Loggers

Solinst Leveloader Gold Rugged Data Transfer Unit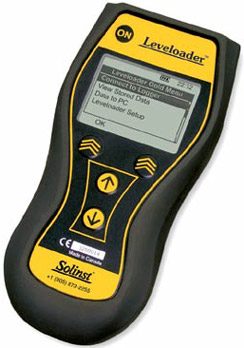 The Leveloader Gold is a field-ready, data transfer unit designed for use with all versions of the Solinst Levelogger (Gold, Junior & LTC) and Barologger. It is used to download and store multiple data files, using 8 Mb of non-volatile FLASH memory. The Leveloader has a rugged, water-resistant, ergonomic exterior and stores up to 1,390,000 LT readings, 930,000 LTC readings or 34 full Levelogger downloads. Stored data can be scrolled through before transfer to a PC. The Leveloader can also be used to display data in real-time, which is ideally suited for conducting conventional pumping tests.
Field-located Leveloggers can be reprogrammed on site, or for convenience, with up to 10 personalized settings files with a 'future start' or 'start now' option. These settings files each store a customized sampling regime, instrument location, identification, and altitude, which can be pre-programmed in the Levelogger PC Software at the office and transferred to the Leveloader Gold for use in the field. The Leveloader can be synchronized to your PC clock. In turn you can synchronize Levelogger times to the Leveloader time, to maintain consistency between field-deployed Leveloggers.
The Leveloader Gold also displays useful information on battery life (uses 9V alkaline or lithium), memory levels and firmware versions for both the Leveloader itself and the attached Levelogger. As with the Solinst Levelogger Gold, the Leveloader Gold has upgradeable firmware, which allows future improvements to be added to older units. There is password protection built into the Leveloader Gold to prevent unauthorized changes to the Levelogger settings, logging sessions or stored data. Each unit comes complete with USB and RS232 PC cables, as well as, Levelogger optical and direct read interface cables.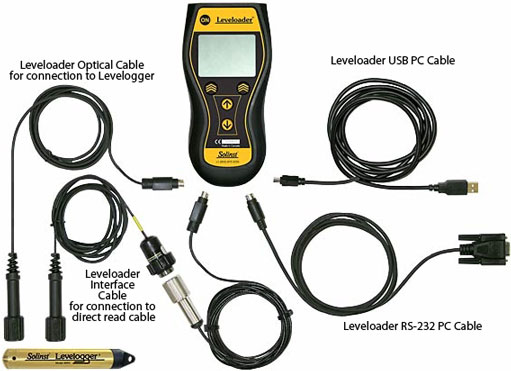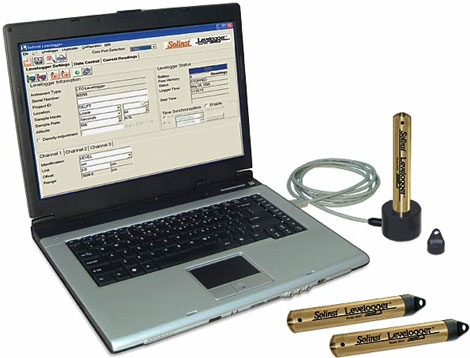 Optical Reader connected to PC USB port