Dissolved Oxygen Meters

Oxyguard Handy Polaris Waterproof Dissolved Oxygen & Temperature Meter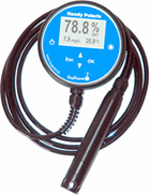 The new OxyGuard Handy Polaris Portable Dissolved Oxygen (DO) Meter measures %saturation, mg/L (ppm) and temperature. Designed for ease of use and quick start-up, measurements are compensated for temperature, barometric pressure and salinity. Also the Polaris includes "On-screen" instructions, as well as automatic calibration with stability check of meter, cable and probe.
The Oxyguard galvanic type probe has a measuring range of 0-60.0 ppm (0-600% Saturation), and a short response time - it is always ready for immediate use without the need for polarization & stabilization time. With excellent probe stability, one daily calibration check is sufficient. The tough membrane can be wiped clean with cloth or paper towel. The probe can be stored dry, does not need regular renovation and the membrane is easy to replace when required.
The Polaris is powered by a standard 9 volt battery with more than 1400 operating hours and incorporates automatic shutdown for power saving and an illuminated display with variable intensity. Standard accessories include a detachable clip for easy attachment to a belt or clipboard, service kit including a spare membrane cap, membranes, electrolyte and storage pouch.