Universal DataLoggers
Multichannel User Configurable Data Loggers

6004 Starlogger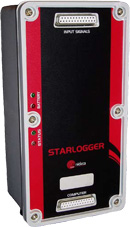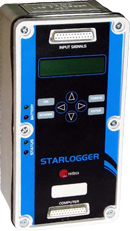 For applications requiring data recording from multiple sensors, such as a meteorology station, snotel or water quality station, the Starlog Data Logger is the ideal choice. The 6004-1 Starlogger feature eight (10 bit) analog channels, four (16 bit) counter/frequency channels, and sixteen (16 bit) Starbus serial I/O channels. Memory is a large 512K capacity CMOS RAM, enough storage for many months of recording. Starloggers are completely portable, containing an internal 9V alkaline battery pack, as well as 12VDC external power input. Instrument scan rates extend from 125 milliseconds to 5 minutes. Two user configurable instrument power sources can be scan synchronized, and connected to an external relay for high load instruments.
The RS-232 port allows for direct communication with a PC computer, or for remote sites via phone modem or the Neon Remote Data Terminals. Data logging functions such as sensor scan rate and scaling, log interval and output format can all be controlled with the user friendly Windows Version 4 Starlog Software Package.
For even greater flexibility in the field, the 6004-2 Display Starlogger offers the added convenience of a display and keyboard. The 32 character two-line Liquid Crystal Display enables you to view signal readings even while recording. Battery, memory and program status provide complete field checks. Also, the 6004-2 Starlogger includes one SDI-12 input channel - ideal for inputting intelligent instruments such as the KPSI 500 Pressure Transducer or Analite 395 Turbidity Probe.