Dedicated Water Quality Data Loggers
Data Logger Configured with Water Quality Sensor(s)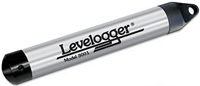 Solinst Levelogger Junior Level & Temperature Recorder
The Levelogger Junior is the newest addition to the Solinst Levelogger Family. The Levelogger Junior provides an inexpensive alternative for measuring groundwater and surface water levels. It combines a data logger, temperature sensor, pressure transducer, and 5-year battery, in a small, maintenance free, waterproof stainless steel housing.
The Levelogger Junior features a non-volatile memory, with a capacity of 32,000 sets of temperature and water level data points. Readings are linear at a user-defined interval between 0.5 seconds to 99 hours. Accuracy is 0.1% FS, with a lifetime factory calibration. If greater accuracy, sampling options, or ranges are required, the Solinst Levelogger Gold has the functionality to suit your application.
Compatible with Levelogger Gold software and accessories, the Levelogger Junior is also SDI-12 compatible, can communicate using a Leveloader Gold Data Transfer Unit, and is able to integrate into Solinst or Neon Telemetry Systems.
Programming the Levelogger Junior is the same as with the Levelogger Gold. An Optical Reader or PC Interface Cable connects the Levelogger to a laptop or desktop PC. The intuitive Levelogger Gold Software automatically detects the type of Levelogger that is connected. Programming, downloading, data management and export are easy. The Real Time View option allows immediate viewing of live water level and temperature readings.
These compact data loggers are very easy to deploy. Installation can be with direct read cables or by wire line suspension, avoiding the use of vented cables. The Levelogger Junior outputs temperature and compensated water level readings. The Barologger Gold and Levelogger software allow easy barometric compensation.
The Levelogger Junior also features helpful utilities such as self-test capability, a robust EEPROM memory and FRAM backup memory for increased data integrity, also the ability to upgrade firmware for increased function and features.

Specifications or Accessories