PH Meters

Hanna HI 991001/2 Waterproof pH & Temperature Meter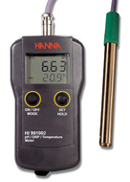 The HI 991001 and HI 991002 pH (ORP) & temperature meters are economical waterproof handheld meters ideal for field spot checks. The HI 991001 has an extended range from -2.00 to 16.00 pH and simultaneously displays temperature from -5.0 to 105.0 °C; the HI 991002 also measures ORP in the ±1999 mV range.
The large display with graphic symbols guides the user through all operations and calibration processes. It includes a stability indicator/hold feature that prompts the user when to take the reading and freezes the display for easy recording. The meter incorporates automatic temperature compensation (ATC) and a battery life of over 1500 hours of continuous use with automatic shut-off. Calibration is performed automatically at 1 or 2 points using standard buffers. The electrode has a built-in temperature sensor and amplifier to minimize noise and electrical interference.
HI 991001 is supplied complete with a combination pH and temperature probe with one meter cable, batteries & carrying case. HI 991002 is supplied complete with a combination pH/ORP and temperature probe with one meter cable, batteries & carrying case. Specifications