Dedicated Water Quality Data Loggers
Data Logger Configured with Water Quality Sensor(s)


6536 Conductivity & Temperature Recorder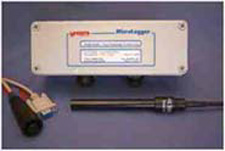 The 6536 Water Conductivity Recorder is a complete measurement system suitable for permanent field installation. Graphite electrodes, combined with zero potential measurement technique, maximize stability and reduce effects due to algae growth and other water pollutants. Three built-in ranges allow the one instrument to cover a wide range of conductivities. Autoranging means the instrument works at its optimum resolution throughout the operating range. This enables monitoring of saline conditions while still accurately measuring flushes of fresh water. Temperature is measured within the sensing cell to provide precision correction. Both temperature corrected and uncorrected conductivity measurements are available for recording.
A Unidata MicroLogger is part of the instrument, providing all the standard features such as 120K RAM, SDI-12 output, intelligent battery supervision, modem interface and all the programmability found in Starlog Data Loggers. Ultra low-power consumption makes the instrument ideal for remote, unattended operation. This instrument will operate for months from a single 12V battery. Combined with the Model 6526 Starflow Water Flow Recorder, the Model 6536 Conductivity instrument provides a complete salt load recording package. Specifications