Dedicated Water Level Data Loggers
Data Logger Configured with Water Level Sensor


Global Water WL 16 Water Level Recorder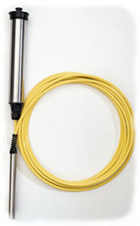 The WL16, Water Level Logger, is a datalogger and submersible pressure transducer combination designed for remote monitoring and recording of water level data. This inexpensive water level recorder can record over 81,000 readings and has four recording options, fast (10 samples per second), programmable interval (1 second to multiple years), logarithmic, and exception. Multiple depth ranges are available from 3' to 500' of water level change. A 25' vented cable is standard on all water level loggers, and optional cable lengths are available from the factory up to 500'.
The WL16, Water Level Logger, is housed in a weather-resistant cylindrical enclosure, which slips inside a standard 2-inch PVC pipe and is easily adapted with standard hardware for wellhead mounting, stream, or other installations. Two internal 9 VDC Alkaline batteries will typically power each of the Water Level Loggers for approximately one year even if one of the batteries fails. A third onboard lithium battery ensures your data is safe in the event both 9V batteries fail. All Water Level Loggers include a USB or serial cable as well as, Windows PC and Windows Mobile PDA software, allowing easy upload of data to a PC or PDA for transfer to spreadsheet programs.
The WL16 water level sensor is fully encapsulated with marine grade epoxy and has automatically barometric compensation due to the attached vent cable. The electronics are encapsulated so that moisture can never leak in through O-ring seals or work its way into the vent tube and cause drift or sensor failure. The vent tube is sealed directly to the wet-wet sensing element, and any moisture that may enter the vent tube from the housing will only contact the ceramic parts, not the electronics. The vented submersible pressure transducer uses a unique silicon diaphragm to interface between your water and the sensing element. A stainless steel micro-screen cap protects the pressure transducer diaphragm which is highly flexible and touches the sensing element, producing a sensor with exceptional linearity and very low hysteresis. Specifications