Dedicated Water Level Data Loggers
Data Logger Configured with Water Level Sensor


KPSI 550 WaterMonitor Depth & Temperature Recorder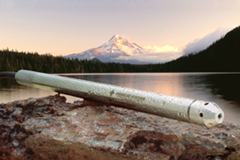 The WaterMonitor is a submersible hydrostatic level transducer with embedded datalogging offering the highest level of functionality and accuracy available today. The transducer meets the demanding requirements of the USGS Office of Surface Water (OSW) accuracy specification for stage monitoring.
The WaterMonitor combines a highly accurate (±0.05%) pressure sensor with power conservative microcomputer datalogging circuitry. The stainless steel housing of the 550 is small enough to hide in most monitoring wells, measuring just 19 mm diameter by 370 mm long (including the cable quick connector). The logger comes standard with 2 MB (144000 pressure & temp readings) of non-volatile memory and is expandable to 4 MB. Two AA batteries power the electronics providing years (3 years @ 15 minute interval) of datalogging using linear, linear averaging, event triggered, and logarithmic sampling modes. The batteries are easily field-replaceable via an innovative quick-connect vented cable assembly, and the WaterMonitor has an IP 68 and NEMA 6P housing protection rating.
The WaterMonitor firmware can be upgraded in the field as new features and capabilities are released. The WaterMonitor features a networkable RS-485 communications interface utilizing the SDI-12 protocol, an RS-232 converter is also available. The unit is supplied with sophisticated yet easy to use applications software for use with a laptop or desktop computer to facilitate logging set-up and initialization, data display, and real time data sampling. Both the applications software as well as firmware upgrades are available at no charge. Specifications