Dedicated Water Level Data Loggers
Data Logger Configured with Water Level Sensor


6526 Starflow Ultrasonic Doppler Flow Recorder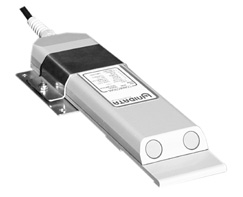 The Starflow is a compact, easy to use system for measuring the velocity and depth of water in rivers and streams, open drainage channels and large pipes. It is suitable for use in a wide range of water qualities ranging from sewerage and waste water to clean streams, potable water, and even sea water. The instrument measures forward and reverse flow conditions and may be programmed to compute Flow Rate and Total Flow in pipes and open channels.
The Starflow consists of a combination of an ultrasonic velocity transducer (profiled to reduce flow disturbance), Unidata Micrologger with 120K RAM and signal processing electronics. It is designed to be placed at (or near) the bottom of the water channel for "upward looking" measurement. A single cable connects the instrument to a 12VDC lead acid battery and termination board housed in a remote weatherproof enclosure. Water velocity is measured by the ultrasonic Doppler principle which relies on suspended particles or small air bubbles in the water to reflect the ultrasonic detector signal. Water depth is gauged by a hydrostatic pressure sensor, referenced to atmospheric pressure through the vented power and signal cable. Water temperature is also measured - to adjust for the change in velocity due to speed of sound and is also available for logging. Data is downloaded via a RS232 output port located on the termination board or the unit can be configured as a SDI-12 intelligent instrument. Specifications