Ground Water Instruments

Testwell Oil Water Level Meters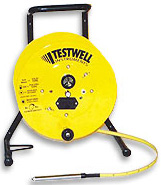 The Testwell Oil/Water Interface Meter is the first small diameter (7/16", 12mm OD) Interface Meter which detects floating or sinking hydrocarbons down to 1/2 mm or 1/200 of a foot. A 5/8" (15mm) diameter stainless steel probe, which has all of the features of the smaller 7/16" diameter probe, is also available.
The Testwell Interface Meter measures both LNAPLs and DNAPLs with a pressure proof stainless steel probe. A conductivity sensor is used to sense the water level, while the hydrocarbon layer is sensed with a proven and rugged optical infrared refraction sensor. The meter has two separate sensitivity controls for the water sensing and fluid sensing circuits which allows the user complete control over the performance of the instrument. A unique water sensitivity control dial, allows for quick readings through heavy oils while preventing false readings, and the state of the art electronics will correct for a severely damaged optical sensor.
Five times more accurate than meters with white tapes, the Testwell Interface meter has an accuracy of 1mm or 1/100 ft. The yellow Kynar tapes are available in lengths from 15 to 600 meters (50 - 2000 ft) and meet or exceed federal specification US GGG-T-106E (U.S.A.) or EEC CLASS II (Europe) for a guaranteed accuracy of 0.008%.
The reel is constructed from aluminum and not plastic, and the steel stand has a handy built-in hook and cable protector which protects the tape from abrasion and lets unit hang from the well casing. The meter is powered by easily replaceable 9 VDC Alkaline battery and has an automatic shut off after 10 minutes. The probe and cable have a 10 year warranty, and the reel has a lifetime warranty.