Ground Water Instruments

Testwell Water Level Meters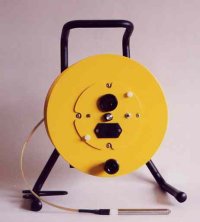 For measuring the depth of water in wells, boreholes, and standpipes, the Testwell Water Level Meter is accurate to 1/100 ft or one millimeter. The meter uses a choice of probe designs, attached to a permanently marked polyethylene tape, fitted on a well-balanced reel. It is powered by a standard 9 volt battery housed in an easy-access battery drawer. The probe incorporates an insulating gap between electrodes. When contact is made with water, the circuit is completed, activating a loud buzzer and a light. The water level is then determined by taking a reading directly from the tape at the top of the well casing or borehole. The 0.7" diameter probe is constructed of stainless (316) steel with a Teflon shroud.

The shroud can be removed for easy cleaning, and an optional weighted tip can be substituted for small diameter holes. The high quality polyethylene tape reels smoothly, remains flexible and hangs straight in the well, irrespective of temperature. Permanent markings each millimeter or 1/100 ft. allow accurate readings, traceable to NBS standards. The tapes' stranded stainless steel conductors resist corrosion, provide strength and are non-stretch. They make the tape very easy to repair and splice. The reels are equipped with easywind ball bearings, on/off sensitivity switch, light, buzzer, and battery test button. Available with tape lengths from 30 to 300 meters and with rugged steel, aluminum or plastic faceplates.