Dedicated Water Level Data Loggers
Data Logger Configured with Water Level Sensor


Solinst Levelogger Gold & Temperature Recorder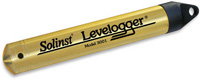 The New Levelogger Gold represents the next generation of discrete water level & temperature dataloggers. With no vented cable, the sealed design combines a datalogger, built-in lithium battery, pressure transducer and temperature sensor, in a small, minimal maintenance, 7/8" x 6" (22 mm x 154 mm) stainless steel housing. It can be suspended on a simple wire line, or connected to the surface with a direct read cable (for downloading of data and/or reprogramming without removal from the water). Use of the wire line reduces costs and allows the Leveloggers to be totally hidden from view and potential vandalism. The stainless steel housing protects against lightning and power surges and the golden Zirconium Nitride coating gives extra corrosion resistance. With high resolution and high accuracy of 0.05%, the Levelogger Gold has improved transducer, temperature, and clock accuracies. Altitude, water density, temperature and barometric compensations also add to the significant increase in accuracy and instrument stability.
Programming of the Levelogger requires one optical reader and software kit. The easy-to-use software incorporates a new user-selectable (logarithmic) recording schedule, as well as the standard event-based and linear sampling. Battery life is 10-Years, even with recordings every minute. Memory is 40,000 readings of pressure and temperature, displayed as temperature compensated level, with an on-board backup of the last 1200 logs.
The Levelogger Gold measure absolute pressure (water pressure plus atmospheric pressure) expressed in feet or centimetres of water column. Therefore, to compensate for barometric pressure changes a separate Barologger is required. The barometric compensation wizard in the Windows software simplifies the adjustment of the level measurements for barometric pressure changes, by using the synchronized data from all Leveloggers on site and the site Barologger.
High accuracy and long-term stability all help to make Leveloggers the ideal device for recording water levels where discreetness is required. Leveloggers are available in a variety of ranges, in three models; Level & Temperature; Level, Temperature & Conductivity; and Barologger.

Specifications or Accessories