Water Quality Sensors

6507 Thermistor Temperature Probe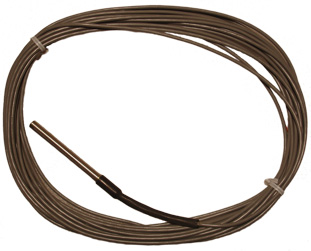 These economical thermistor temperature probes are suitable for a variety of temperature monitoring applications such as air, water, soil, snow, ice, etc. They are fully sealed and can be used in fresh and sea water to a depth of 5 meters. The thermistor temperature probes use a Negative Temperature Coefficient (NTC) thermistor as their temperature sensor. The NTC thermistor is a high quality, precision curve matched element with an accuracy of 0.2°C and operating temperature is from -100°C to 150°C (Due to the type of cable being used, the measurement range of the probe is from -30°C to 100°C). A high accuracy version is also available with an accuracy of 0.1°C. The probe is powered by 5 VDC and has an output from 0 to 2.55 VDC suitable for data loggers such as the Neon and Starlog Data Loggers.
Also available is the Linear Temperature Probe with an accuracy of 0.6°C and range of -17.8°C to 100°C. The probe is powered by 5 VDC, and outputs a DC voltage signal which is directly proportional to the temperature at 18mV/°C.